MARTHA BARRA - OWNER, BARRA OF MENDOCINO - TALKS WINESONG WEEKEND, SEPTEMBER 8-9, 2017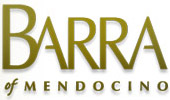 As you take a walk through the vineyard with Charlie Barra, you'll find yourself surrounded by 60 year old, craggy, grapevines that resemble the sun-baked hands of the farmer that has nurtured them. These hearty, twisted vines, located on the bench lands at the headwaters of the Russian River in Redwood Valley, California, are the source of the superior organic fruit that goes into each bottle of BARRA of Mendocino wines.
Following in the footsteps of his father, Antonio Barra, and his maternal grandfather, Guiseppe Rovera (who immigrated to Mendocino County from Piedmont, Italy in 1906), Charlie began farming grapes in the mid 1940's. By 1954 he had purchased Redwood Valley Vineyards, the ranch that is home to over 175 acres of organically grown Pinot Noir, Zinfandel, Cabernet Sauvignon, Sangiovese, Merlot, Petite Sirah, Chardonnay, Pinot Blanc, Pinot Grigio and Muscat Canelli.
In 1955, when Charlie began planting new vines, he was fortunate to be able to rely on the practical experience of his father and grandfather to help him make the right choice in selecting rootstock and varietal clones. These choices, over the years, have proven that he made the right ones. Choosing to farm organically is just now beginning to pay off with consumer demand growing rapidly for wines grown without the use of chemicals, pesticides or other harmful materials.
With over 6 decades of experience in the back pocket of his Wrangler jeans, Charlie Barra, now 87 years old, farms his organic vineyards with the goal of producing rich, distinguishable fruits that "shine through" in every glass of BARRA of Mendocino organic wine.
WINESONG WEEKEND, SEPTEMBER 8-9, 2017!
Winesong – who we are and what we do…
Winesong is an annual charity auction and wine + food tasting produced by the Mendocino Coast Hospital Foundation. Proceeds are used to enhance equipment, facilities and services at the Mendocino Coast District Hospital. The Diagnostic Imaging Center, Medical Evacuation Helipad, Out-Patient Surgical services and Emergency Department Equipment are just a few of the vital areas that Winesong funds have enhanced. Since 1985 Winesong has raised over $7.5 million for improvements in local healthcare.
WINE & FOOD TASTING
Saturday, September 9th, 2017
11 am – 2 pm
Stroll through the lush Mendocino Coast Botanical Gardens while enjoying vintages poured by world-class wineries from Mendocino, Sonoma, Napa, and beyond, and food from 50 of the finest regional finest food purveyors (see list of wineries and food below). The tasting is accented by various music groups performing a variety of styles including jazz, classical, blues, calypso and folk rock.
CHARITY AUCTION
Silent Auction: 11 am-2 pm
Live Auction: 2 pm-5 pm
The centerpiece of Winesong weekend is our Charity Auction, featuring both a silent and live auction. Excitement builds in the Auction Tents with lively bidding for nearly 200 lots, featuring spectacular wines from the world's most prestigious wine producers, rare vintages, large format bottles plus special vertical and horizontal collections. Other auction highlights include original art from acclaimed California artists, vacations packages and highly coveted international wine getaway packages to Tuscany, France, the Caribbean, and other enchanting parts of the world. Plus this year, we're offering South Africa once more! Rounding off the travel offerings are one and two night getaway trips to the West's most romantic inns, resorts, and spas; and exciting event destinations like Emeril Lagasse's Carnival du Vin in NOLA, Vintage Albuquerque and the renowned music festivals. Coupled with the Wine & Food Tasting, the day can't be beat…
A PINOT NOIR CELEBRATION
Hosted by Little River Inn
Friday, September 8, 2017 | 1-4pm
Enjoy over 30 outstanding wineries and a Taste of Little River Inn's culinary delights in an intimate setting at the Little River Inn overlooking the beautiful Pacific ocean. This is an opportunity to evaluate wines and learn how classic Pinot Noir improves with age. Savor these lush and elegant wines while you meet and mingle with the winemakers at our seaside setting overlooking the spectacular Pacific Coast. Little River Inn's best culinary offerings will be specifically paired to the outstanding Pinot Noir being offered.
WWW.BARRAOFMENDOCINO.COM
WINESONG.ORG
CHEF WILLIAM CARTER - THE CANYON VILLA BED & BREAKFAST
The Canyon Villa Bed & Breakfast
1455 Kiler Canyon Road
Paso Robles, CA 93446
805-238-3362
Chef William S. Bloxsom-Carter previously worked as the Executive Chef, and Food and Beverage Director for the Playboy Mansion West for over two and half decades. A frequent wine judge he constantly looks for wines to pair with his foods for the multitude of foods he presents. Chef Carter has prepared winery dinners in Sonoma County, Napa Valley, Paso Robles and the Santa Ynez Valley as well as special events for high-profile clients throughout the United States, focusing on the importance of food and wine pairings and extraordinary hospitality service. Additionally, Chef Carter is a recurring featured guest on numerous radio shows syndicated nationwide describing and promoting California wines and foods.
ABOUT THE CANYON VILLA:
An Internationally Recognized Award-winning Bed & Breakfast
The Canyon Villa, where weary wine lovers revive
Like an Italian villa perched on a Tuscan hillside, the Canyon Villa bed and breakfast pampers wine lovers touring Paso Robles wineries or couples seeking a charming retreat. The Canyon Villa offers an intimate setting, lavish amenities, fine food and an ideal location.
At the Canyon Villa, we offer only four guest rooms, each uniquely decorated and each appointed with luxurious extras such as spa tubs and lush towels. You can enjoy your gourmet breakfast in the courtyard or our dining room.
We also offer a cozy great room for relaxing with other guests, and a wine tasting with hors d'oeuvres every afternoon between 5 p.m. and 6 p.m. In the summer, enjoy your wine and appetizers in our lovely shaded courtyard, with its trickling fountain and evening breezes.
Beyond the elegant setting of our inn, take a leisurely stroll through our eleven acres while admiring the views. Visit the local wineries, and then enjoy an evening meal at one of Paso Robles' fine restaurants. The Canyon Villa is also the ideal bed and breakfast for day trips to other locales, such as Hearst Castle or Cambria's art galleries.
Indulge your love of wine or your love of each other. Plan a romantic getaway to charming Paso Robles, and plan to indulge in the intimacy and luxury of the Canyon Villa.
VOTE! FOR THE CANYON VILLAS BED AND BREAKFAST - BEST WINE COUNTRY HOTEL/B&B - NOMINEE: 2017 USA TODAY 10BEST READERS' CHOICE TRAVEL AWARDS
WWW.THECANYONVILLA.COM
WWW.BEACONVATEL.COM