ELLIOTT DOLIN – PROPRIETOR, DOLIN MALIBU ESTATE VINEYARDS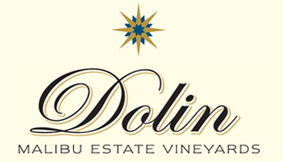 DOLIN ESTATE RELEASES ITS FIRST RED BLENDS FROM MALIBU COAST AVA
Elliott and Lynn Dolin, founders of the Malibu-based Dolin Estate, are thrilled to announce the inaugural release of their first red blends from the region. The Blue Note, a blend comprised of Merlot (44%), Cabernet Sauvignon (36%) and Cabernet Franc (20%) will be available beginning in February, and Troubadour, a blend comprised of Cabernet Franc (42%), Cabernet Sauvignon (35%), Syrah (14%) and Petite Verdot (9%) will be available later this year. Both wines will retail for $45. Founded in 2009, Dolin Estate has received critical praise for its estate-grown Malibu Coast Chardonnay and its Malibu Newton Canyon Chardonnay. "We love these red blends for their old-world sensibilities and elegance, and we're eager to finally share them with our customers," says Elliott Dolin.
Dolin, whose musical career as a session bassist took him around the world to play with top acts, named the wines for two of his favorite musical venues. The Left Bank-inspired Troubadour blend refers to the West Coast concert venue, while the Right Bank-inspired Blue Note refers to the legendary New York jazz club, as well as the first band in which Elliott Dolin was paid to perform while living on the East Coast. Elliott's career as a session bassist included work with the original Manhattan Transfer, and artists such as Donna Fargo, Brenda Lee and Ray Price.
The Blue Note and Troubadour are comprised of fruit grown four miles east of the Pacific Ocean in the mountains of Malibu at a 1,450 foot elevation. Because the vineyards sit above the fog line, the grapes receive greater sun exposure and warmer temperatures than Dolin's estate Chardonnay vineyard, providing ideal conditions for Bordeaux varieties to flourish. Veteran Central Coast Winemaker Kirby Anderson produced the wines, employing small lot winemaking practices like hand-sorting, a three to five day cold-soak, and gentle punch downs to ensure the best possible quality
WWW.DOLINESTATE.COM
HEATHER MURAN - EXECUTIVE DIRECTOR, SAN LUIS OBISPO WINE COUNTRY ASSOCIATION
The wineries of SLO Wine Country boast an average distance of just five miles from the Pacific Ocean, resulting in prevailing marine conditions that are among the most pronounced of any wine region in California.
SLO Wine Country includes two small adjoining American Viticultural Areas—the Edna Valley and Arroyo Grande Valley—and other nearby winegrowing areas. Each of these areas shares a unifying proximity to the ocean, as well as to each other. Collectively, these growing conditions forge a unifying wine quality that is native to SLO Wine Country:
Cool
The reliable cooling effect of the nearby Pacific Ocean ensures a long growing season, enabling the grapes to achieve physiological ripeness and natural balance. Cool-climate varietals such as Chardonnay and Pinot Noir excel in the heart of SLO Wine Country, and even the warmest areas benefit from considerable marine influence.
Consistent
The ocean proximity also exerts a moderating effect on the climate, minimizing temperature swings so that growing conditions are rarely hot or cold. The result is an extraordinarily steady growing season that fosters balanced ripening and consistent quality from vintage to vintage.
Complex
The imprint of the ocean is also evident in SLO Wine Country's uncommonly complex soils, which are frequently riddled with ancient sea fossils. Soil variation enables the winegrower to mix and match varietals to specific soil profiles, or to add more "colors" to the palette of a single varietal, heightening overall quality and complexity.
UPCOMING EVENTS:
BARRELS IN THE PLAZA
Thursday, June 22nd • 4:30-7:30pm
Mission Plaza, Downtown San Luis Obispo
$60 Ticket / $30 Designated Driver
Tickets include a commemorative wine glass and complimentary wine & food pairings throughout the event.
Break out the Barrels! We'll be featuring over 50 wineries and restaurants dishing out world class wines and tantalizing treats for Thursday evening's "Barrels in the Plaza" grand tasting in the heart of downtown San Luis Obispo City, adjacent to the historic Mission de Tolosa. Your ticket includes winetasting, edibles from local chefs throughout SLO County and live music by Bear Market Riot. This is one street party you won't want to miss!
4X2 PASSPORT TO SLO WINE COUNTRY
Friday & Saturday, June 23rd & 24th
4 Tastings x 2 Days = 8 Great Wine Experiences
$75 Passport / $20 Designated Driver
Includes 4 locations per day for a total of 8 visits.
Walk the vineyards, barrel sample the new vintage, and enjoy open houses, wine tastings and festivities all day Friday & Saturday! Just pick up your wristband, wineglass and passport booklet at the first winery you head to and bring them along to enjoy the festivities!
SLOWINE.COM