JONATHAN NAGY – WINEMAKER, BYRON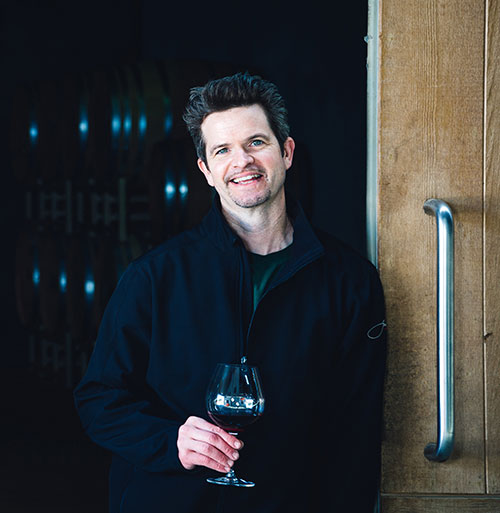 To really understand Byron, one must spend some time exploring the Nielson Vineyard that surrounds the winery. More than just the primary source of fruit for Byron's wines, it has great historical significance as Santa Barbara's first commercial vineyard. When planted in 1964 by Uriel Nielson, this gently canted site was deemed too cold and inhospitable for grapes, but time has proved the naysayers wrong.
Ken Brown, Byron's founder, acquired the 432-acre Nielson Vineyard in 1989, five years after he launched the winery. It is located roughly 18 miles east of the Pacific Ocean at 500 to 750 feet above sea level. Chilling winds and thin soils ensure that Byron's wines possess great intensity, heightened aromatics and firm structure.
Since day one, Byron has been a bastion of experimentation. The early years were devoted to researching clones, rootstock, vine spacing, trellising and farming. Since becoming head winemaker in 2003, Jonathan Nagy has continued down the path of research and innovation. He has also implemented many new methods including red/green fruit drop, intensive sorting, native yeast fermentations and small-lot fermentations. Under Jonathan's watchful eye Byron Winery produces spectacularly rich and exotic Pinot Noirs and Chardonnays from the Nielson Vineyard and other premier sites in Santa Barbara County. The region once deemed "too cold and inhospitable" is now widely regarded as one of America's greatest AVAs.
WINEMAKER
Our winemaker, Jonathan Nagy, uses high-end, small-lot winemaking techniques, such as hand pruning, block-by-block harvesting, barrel fermentations and lees stirring, in combination with fruit from some of the AVA's most renowned sites to ensure that our wines capture the culture, lifestyle and flavor of Santa Barbara County.
WWW.BYRONWINES.COM
JEFF STEWART - GM/WINEMAKER, HARTFORD FAMILY WINERY
FAMILY ARTISAN WINERY
Hartford Family Winery was founded in 1994 as a result of Don and Jennifer Hartford's appreciation for the wines, the people, and the unique vineyards near their Russian River Valley home. Located in the Sonoma County town of Forestville, the winery is about 15 miles from the cool Pacific Coast.
We are located at 8075 Martinelli Road in Forestville, California. Click here for hours and directions, or call us toll free at 1-800-588-0234 for more information.
HIGH PERSONALITY WINES
Making delicious wines of high personality is directly related to the difficult locations of our vineyard sources, the limited production of our bottlings and the varietals we use. "Character through adversity" is an expression that we believe applies to people and grapevines and surviving adversity builds character, and personality, in both.
SINGLE-VINEYARD AND LIMITED BOTTLINGS
Hartford Family Winery specializes in making wines from single vineyard sites. In recent vintages we have made about 25 different single vineyard bottling's Small and low-yielding vineyards deliver meager amounts of expressive and personality-rich wine. Our single-vineyard Hartford Court Pinot Noirs and Chardonnays total as few as 93 cases up to about 800 cases. Likewise, our Hartford Old-Vine Zinfandels are produced in small quantities. Our single vineyard wines are highly allocated.
Pinot Noir
We love Pinot Noir and in many years make about 15 of them with fruit from the Russian River Valley, Sonoma Coast, Green Valley, Carneros, Anderson Valley, Marin and Oregon appellations. We feel that Pinot Noir makes the most seductive red wine, notable for its supple, silky texture. Pinot Noir is also known for expressing vineyard site characteristics in a transparent manner.
Chardonnay
Cool climate Sonoma Coast and Russian River Valley Chardonnay vineyards are singularly expressive. Those that are planted with multiple clones, specially matched to their sites, also reflect the distinctive terroir in these high-risk, high-reward locations.
Old-Vine Zinfandel
Our 80-100 year old Zinfandel vineyards are irreplaceable treasures. We source our vineyard designated Russian River Valley Zinfandels (150-500 cases) from some of the oldest Zinfandel vineyards in California. The complexity and depth of flavors from these vineyards produce the most consistently bold and unctuous Zinfandels found anywhere.
Russian River Valley Appellation Chardonnay, Pinot Noir & Zinfandel
In addition to our small vineyard designated bottlings, we make a Russian River Chardonnay, Russian River Pinot Noir and Russian River Zinfandel that are made from a handful of vineyards each year. These Russian River Vineyard Cuvees are now found in some of the worlds most prestigious restaurant and retailers worldwide.
ABOUT JEFF
Born and raised in South Lake Tahoe, California, Jeff Stewart is, not surprisingly, an avid skier. But it was a summer trip to France and an enthusiastic chemistry teacher that enticed him away from the mountains and into winemaking.
"My summer in France was really my first experience with wine as part of the family meal. I was fascinated with the lifestyle and the importance of wine in that culture," says Hartford Family Winemaker and General Manager, Jeff Stewart. "I knew I wanted to pursue a career in science and after several conversations with my high school chemistry teacher, I was soon enrolled in the Viticulture and Enology program at U.C. Davis. The idea of combining agriculture, science and the creativity of making wine, something celebrated and revered in many cultures for thousands of years, was mesmerizing."
A UC Davis graduate with a degree in Fermentation Science, Viticulture, and Enology, Jeff has been making Pinot Noir, Chardonnay and Old Vine Zinfandel in the Russian River and Sonoma County for over 25 years.
WWW.HARTFORDWINES.COM