MIKAEL SIGOUIN – WINEMAKER, KA'ENA WINE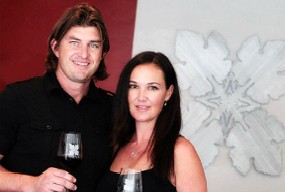 Kaena was launched in 2001 to showcase Mikael's deep passion for Grenache. Kaena is a boutique winery that sources from Tierra Alta Vineyard and Larner Vineyard in the Ballard Canyon AVA , primarily. Mikael who is part Hawaiian and raised on the Oahu shores, uses a shortened version of his given name for the brand – Kaena – which means "potential for greatness". That "greatness" is evident in the wines – in 2006 Wine Spectator named Mikael one of the top 10 new Rhone producers. Known affectionately by his peers and fans as The Grenache King – Kaena produces 2000 cases of Rhone & other varietals with an emphasis on Grenache. Mikael credits his success, growth and nickname to his passion for making truly handcrafted wines. He also credits his wife, Sally, for her design and management of the Kaena Tasting Room located in Los Olivos, California.
WINEMAKING
Winemaking is deeply personal to me. It is my artistry, my meditation, my profession, my life. It has been 15 years now and when I look back at my first harvest at Beckmen Vineyards in 1999, the slope of my learning curve was exponentially vertical. I absorbed everything I could. After a few years, I moved to Fess Parker Winery, and in '06 I returned to Beckman as head winemaker, where I continue to work today while making Kaena Wines. Along the way I have had incredible opportunities to work amongst some of the best winemakers in the Santa Ynez Valley. They helped guide me toward my winemaking goals of establishing my own brand and taught me great lessons: Work as hard as you possibly can. Ask questions. Be aware. Most importantly, be humble. My first vintage of syrah I had to press by hand through cheesecloth. That was '01. We all have to start somewhere. Through the years, I have also been fortunate to work with a tremendous variety of fruit from incredible vineyards here in SB County. This exploration has led me to my primary focus: Grenache. It is a varietal that is intensely aromatic, sexy, feminine, bold & always full of surprise. In my obsession with this varietal, my goal is to create the most diverse Grenache portfolio in the Santa Ynez Valley by working with the best fruit available. I am pretty close to accomplishing this goal.
While wine was not an integral part of my childhood in Hawaii, the paradise of flavors, colors and aromas that I was surrounded by prepared my palate to understand the delicate nuances in fragrance and taste. This overwhelming sensory experience was enhanced by my great-grandmother, Tutu, who raised me. I'd spend hours by her side watching her patiently layer ingredients in every meal, gently coaxing the best flavors to shine through. Through her work, she taught me to nurture and respect the tremendous gifts we are given. Never at a loss for words, she called me "Ka'ena'ai" – meaning "potential for greatness." My island experiences are embedded in my DNA. They are the reason I strive to make unique wines expressing the spectrum of their place. With Kaena Wines now in its second decade, I honor the responsibility my great-grandmother gave me.
WWW.KAENAWINE.COM
TOBIN SHARP FROM HI-TIME WINE CELLARS
Hi-Time Wine Cellars is a family-owned retail store located in Costa Mesa, California. Founded by Fritz Hanson and his brother-in-law Jim McVay. Hi-Time opened its cellar doors in 1957 at its original location on 17th and Irvine in Costa Mesa, California. In 1984, the Hanson brothers moved to our present location in Costa Mesa where they built one of the largest underground temperature-controlled wine cellars in the U.S . This 3,000 square foot underground temperature-controlled cellar now includes a selection of 10,000+ wines from many different wineries from all around the world. This selection represents the world's finest growing regions from such diverse areas as California, Oregon, Washington, France, Italy, Spain, Hungary, Germany, Austria, New Zealand, Australia, Eastern Europe, South Africa, South America and Portugal.
The recently re-designed store now has a retail space of 24,000 square feet. We added many new and exotic labels to our selection. Along with our selection of rare wines you will also discover hard-to-find spirits, espcially in the Bourbon and Scotch aisles, and exotic liquors from all over the world. In addition, we offer a comprehensive selection of North American micro-brews along with some of the best beers the rest of the world creates. Our walk-in beer refrigerator offers over 1,200 different beers from 25+ different countries. Our walk-in tobacco humidor holds over 500 different cigar brands and sizes as well as a great selection of pipes and fine pipe tobaccos. We also offer gourmet foods, specialty chocolates, cheeses and charcuterie.
We are proud to have been able to serve our customers for over half of a century. Our goal is to provide our customers with one of the largest selections of fine wines and rare spirits from all over the world, at competitive prices and without sacrificing the quality of our customer service. We are looking forward to serving you at our store location, over the phone or online.
OUR STORY
Fritz Hanson and Jim McVay founded the store in 1957. Jim, unfortunately, passed away many years ago. Shortly after opening the store, Fritz's younger brother Chuck Hanson joined the Hi-Time team. Chuck was interested in wine right away and became the store's primary wine buyer. Most of the business at that time consisted of distilled spirits and jug wines. Chuck remembers the first wines to make a big impression on him were those of Charles Krug and Louis Martini.
Harold Hanson, who was in the military overseas at the time, joined Hi-Time after completing his tour of duty. While in the service in Europe, Harold took pictures of wine caves in Burgundy. Bringing the photos back to his brothers, it was decided that they would build a wine cave within the store. Harold became the General Manger for the store, a position he held for over 40 years.
Our original location (pictured on the left)! Those were the days... the wine cellar and La Cave next door. La Cave is still there but we're up the street a bit. Well, tempus fugit, as they say. Hi-Time moved to our current location in 1984... prior to that, the building we're housed in was a telephone company. The underground wine cellar had to be dug out to provide a home for our wines! The groundbreaking ceremony for our building expansion (the new beer area and shipping) was in 2004. What's next? Who Knows! Stay Tuned! ***Yes, more construction in the works... pardon our mess as we strive to make our store better! Facelift at 50? Why not! A few years ago Patterson's Beverage Journal honored the Hanson family for Hi-time Wine Cellars with their Lifetime Achievement Award.
HI-TIME TODAY
Fritz is semi-retired but we always need his help when there's construction to be done... or stocking the liquor shelves during the holidays! Chuck Hanson is still here! Well, at least for a couple days a week he helps keep an eye on the wine department along with keeping up on the latest wines. He knows just about everyone in the California wine industry. Harold has also retired but still stops by a few times a week to check up on things. Today the store is managed by Fritz's oldest daughter Diana Hirst. Both his sons Keith (spirits buyer) and Donnie (clerk) work alongside Diana making Hi-Time the thriving business it is today. Fritz's other daughter Linda is working as an assistant winemaker for Hanzel Winery. Four of Fritz's grandchildren Charlie, Kyle, Jordan and Skylar are working in the store as the 3rd generation of the Hanson family legacy.
WWW.HITIMEWINE.NET
JEFF MANGAHAS – WINEMAKER, WILLIAMS SELYEM
On most wine tasting trips with friends, conversation tends to center on the beautiful surroundings, the aromas in the glass, and where is everyone having their next amazing meal. When Jeff started wine tasting back in his 20's, the question that kept popping into his head was "why does this wine taste the way it does?"
It would be this burning curiosity about what happens before wine enters the bottle that would lead Jeff to leave a career as a medical research scientist and enroll in the UC Davis winemaking program.
Jeff grew up in Washington State, graduating from the University of Washington with a B.S. in Cellular and Molecular Biology. Beginning his career as a research scientist in Seattle, Jeff explored the deep, tannic vintages of Washington's varied wine regions. When his career took him to New York City, Jeff discovered another facet to his fascination with wine—pairing it with fresh and passionately prepared cuisine.
During this time, Jeff also visited the wine regions of France. His scientific roots, his desire to understand the process and his ongoing curiosity to discover what made wine taste a certain way ran wild. He traveled the Burgundy and Bordeaux countryside, sampling and discovering how place and climate can create subtle variations in the flavor and complexity of a bottle of wine. Jeff realized his hobby needed to become his career.
Fast forward to 2003. Jeff has graduated with an M.S. in Enology and then takes on his first harvest with Artesa Vineyards. Soon after, Jeff has become Assistant Winemaker at Dutton-Goldfield, digging into the world of cool-climate Pinot wine growing. Then he was on to the role of Winemaker at Hartford Family Winery, specializing in Pinot Noir from Russian River Valley and Sonoma Coast appellations.
Today, as Winemaker at Williams Selyem, Jeff continues to ask the question of what makes a wine taste the way it does, now tempered with, "how can we coax the best out of each vintage?" Jeff also brings another perspective to the making of wine as a gardener and home chef. On a Sunday away from the winery, you'll find him in his garden, tending to his tomatoes, lettuces and peppers, gathering up ingredients for a wonderful meal to share with family and friends. Of course, a bottle of Williams Selyem has been hand picked to compliment the meal.
Jeff was born in 1971, a year Sonoma County Pinot Noir has been described as, "smoky tobacco and earthy."
HISTORY
Imagine taking a vacation from your "day job" to crush grapes. That's how Williams Selyem was born. Williams Selyem Winery began as a simple dream of two friends, Ed Selyem and Burt Williams, who started weekend winemaking as a hobby in 1979 in a garage in Forestville, California. It took less than two decades from their first commercial vintage in 1981 for Burt and Ed to create a cult-status winery of international acclaim. Together, they set a new standard for Pinot Noir winemaking in the United States, raising Sonoma County's Russian River Valley to among the best winegrowing regions in the world. Here's a brief history of Williams Selyem's rise in the sometimes heartbreakingly cruel world of Pinot Noir.
TIMELINE
1970's Burt and Ed begin making wine in a garage in Forestville. Some of their first fruit is from local grower Leno Martinelli; Zinfandel from 84-year-old vines grown on Jackass Hill.
1981 Burt and Ed make the winery official (and legal!) and name it Hacienda Del Rio.
1982 The first vintage is produced with the now iconic Williams Selyem label. Burt designs it using a letter press and even mixes his own ink for the labels.
1983 The first commercial release of Hacienda del Rio.
1983 Burt and Ed receive a cease and desist letter from the Hacienda Winery, requesting that they not use the name Hacienda on their label.
1984 The first vintage of Williams Selyem on the label releases. The winery is legally Williams & Selyem.
1985 The first vineyard designate Pinot Noir from the Rochioli Vineyard is released.
1987 The Williams Selyem Rochioli Vineyard Pinot Noir wins the Sweepstakes Prize (top red wine) at the California State Fair. Their Pinot is voted the best of the 2,136 wines entered by 416 wineries.
1987 Due to the sudden notoriety, demand now exceeds supply. The Williams Selyem 'waiting list' develops, as not all those hoping to purchase received the opportunity.
1989 Their single-vineyard designate Pinot Noir wines attract worldwide notoriety. Win Wilson and Jack Daniels, the Napa Valley importers of Domaine de la Romanee-Conti come to Williams Selyem in 1992 to compare wines. 23 bottles later, Williams Selyem holds its own, adding to its rapidly growing world-class reputation.
1989 The crew moves into the Allen facility on Westside Road.
1990's The Williams Selyem production grows from about 4,000 cases of wine to 8,000 cases of wine in 1998. The wine is still sold mainly directly to consumers with select cases going to top restaurants in California and New York. The wait to get on the mailing list approaches two years.
1992 The growth of the winery allows Burt and Ed to quit their day jobs and focus solely on the winery.
1995 Williams Selyem is served at the White House.
1998 Burt and Ed sell the winery to John Dyson.
1998 John Dyson buys the Drake property in Guerneville and begins developing it as the first Williams Selyem Estate property.
2001 The Williams Selyem Estate Vineyard is purchased from the descendants of Cecil and Luella Litton. In honor of the heritage of the Litton family, the property is named Litton Estate.
2004 The experimental Mass Selection Vineyard is planted with 18 diverse clones intermixed in the same block.
2006 The first vintage of Litton Estate Pinot Noir is made consisting of 2 barrels only.
2006 Ground is broken and construction began on the new state-of-the-art winery on Westside Road.
2007 Wine Enthusiast awards the Litton Estate Pinot Noir a perfect 100 points. It is the first Pinot Noir in North America given 100 points by any major wine publication.
2009 The production crew moves into the first completed section of the winery for barrel aging, lab work and bottling. Crush and fermentation still happens at the Allen facility.
Late 2010 The new winery is completed and all administrative offices and day-to-day operations move.
Early 2011 Williams Selyem active list members are invited to visit, tour and taste at the winery (by appointment only).
2011 Bob Cabral is named winemaker of the year.
2015 Jeff Mangahas takes over as head winemaker.
The winemaking torch has been passed into the skillful hands of Jeff Mangahas and his team, who respect and employ the original handcrafted approach to winemaking for which Williams Selyem is known. By following proven traditions of respecting the individuality of the growers and vineyards we will continue to deliver distinctive wines.
WWW.WILLIAMSSELYEM.COM