RENEE ARY – WINEMAKER, DUCKHORN VINEYARDS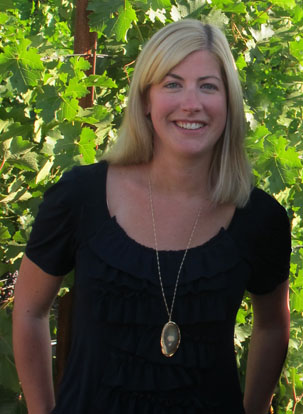 ABOUT RENEE ARY
Renee Ary became the fourth winemaker in the four-decade history of Duckhorn Vineyards in 2014. Her promotion came after 11 years as an integral member of the winemaking team—including roles as assistant and associate winemaker. Like the two acclaimed winemakers before her, Renee spent years working alongside her predecessors, honing her craft, refining her gifted palate and mastering the Duckhorn Vineyards style. Today, with an approach that balances artistry, science and a deep respect for the viticultural side of winemaking, Renee guides the entire Duckhorn Vineyards portfolio, crafting wines that offer structure and sophistication, as well as a deep and purposeful sense of place.
Born and raised on the East Coast, Renee moved to California to attend Saint Mary's College, where she earned a degree in chemistry and art. Fascinated by the intersection between science and an art, winemaking quickly became Renee's passion, career and way of life. She started in the laboratory of Robert Mondavi Winery in Oakville, where she spent four years working closely with winemaking luminaries Genevieve Janssens, Steve Leveque and Richard Sowalsky. While Renee gained this invaluable hands-on experience, she augmented her scholarly understanding of winemaking and viticulture with classes at UC Davis and Napa Valley College.
In August of 2003, Renee joined the Duckhorn Vineyards team under then winemaker, Mark Beringer. From Mark, Renee gained a much deeper knowledge of farming, viticulture and the intricacies of Duckhorn's diverse and storied Estate program. She also refined her blending skills, embracing the intuitive artistry of the blend, and the counterpoint it offered to the more scientific aspects of winemaking. Throughout her first decade at Duckhorn Vineyards, Renee learned every detail of production moving from lab manager to enologist to assistant winemaker to associate winemaker in charge of Duckhorn's Sauvignon Blanc and Monitor Ledge Vineyard wines.
In early 2014, Renee became the fourth name on the short list of Duckhorn Vineyards winemakers that began with Tom Rinaldi in 1978. As winemaker, Renee works in small lots to preserve the rich complexity of the fruit in the Duckhorn winegrowing program.
HISTORY
Co-founded by Dan and Margaret Duckhorn in 1976, Duckhorn Vineyards has spent almost forty years establishing itself as one of North America's premier producers of Napa Valley wines. From its modest inaugural vintage of 800 cases of Cabernet Sauvignon and 800 cases of Merlot in 1978 to its addition of Sauvignon Blanc in 1982, Duckhorn Vineyards has crafted a tradition of quality and excellence that continues today.
Fundamental to this tradition was the early, pioneering decision by Duckhorn Vineyards to focus on the production of Merlot. Though many Napa Valley wineries were using Merlot as a blending grape in the late seventies, few were exploring the potential of this varietal as a standalone wine. A great fan of Merlot since traveling to St. Emilion and Pomerol, Dan Duckhorn felt that this elegant varietal was underappreciated in North America. Dan also believed that the American palate was undergoing a gradual but dramatic shift, moving away from jug producers toward quality varietal wine. This conviction made the timing perfect for the introduction of Duckhorn Vineyards' Napa Valley Merlot.
The quality of Duckhorn Vineyards wines has always been based on a commitment to selecting the finest fruit. Whether carefully sourcing grapes from top sites in the Napa Valley or committing itself to establishing a world-class estate vineyard program, the winery was built on the belief that great wines begin in the vineyard. At Duckhorn Vineyards this has always meant an emphasis on site and terroir. Beginning in 1988, hand-selected Napa Valley properties were purchased for the estate vineyard program, guaranteeing a consistent source of high quality fruit, year after year.
Today, the winery's seven estate vineyards are located in alluvial fans of the Napa Valley and on the coveted slopes of Howell Mountain. The shallow and rocky alluvial soil drains easily, forcing the vines to send roots deep in search of water. The rocks retain the day's heat, bringing relief to the vines during cold spring mornings and foggy summer nights. Because of its topography, soils, and climate, Howell Mountain has distinctly different grapegrowing conditions than the valley floor. Often during summer months, the maritime fog seeping into the Napa Valley below will not reach the mountaintop, giving Howell Mountain more sunlight and moderate temperatures. As a result, winemaker Renee Ary has numerous vineyard blocks to choose from, each offering markedly different flavor profiles.
Dedicated to making classic wines that reflect the unique character and quality of the vineyards, Renee strives to understand the needs and opportunities presented by each specific terroir and microclimate. By approaching each vineyard block individually, Renee's goal is to harvest when the flavors have reached their peak and the tannins are at their softest. Grapes are hand-picked and hand-sorted prior to crushing. In addition, the winery is able to pick the grapes in a timelier manner, even harvesting some vineyard sites several times, selecting only the ripe fruit with each pass through the vineyard. Through estate ownership, Duckhorn Vineyards enjoys greater control over both yields and crop quality.
In the winery, Renee applies an artisan's approach to winemaking, blending from almost 200 distinctive lots using taste and instinct, not formula. Wines are barrel-aged separately by vineyard lot, utilizing an extensive barrel program that sources 25 different types of oak from 13 separate cooperages. The majority of the barrels are made from French oak in the Bordeaux Chateau style. These barrels breathe easier, encouraging the wines to develop. Duckhorn also employs many water-bent barrels, a process which removes harsh tannins from the wood, bringing about toasty, caramelized flavors. The resulting wines combine accents from a comprehensive barrel program with grapes from diverse smaller appellations within the broader Napa Valley, including Howell Mountain, Carneros, Yountville, Rutherford and St. Helena.
For nearly three decades, the commitment to crafting wines of distinction has remained at the heart of the Duckhorn Vineyards philosophy. As its Napa Valley estate properties continue to mature under Renee's stewardship, the winery will continue creating world-class wines from exceptional vineyards.
NAPA VALLEY ESTATE VINEYARD PORTFOLIO
Our Napa Valley Estate Vineyard portfolio is now comprised of seven unique properties. Each site produces grapes with equally distinctive flavors due to variations in soil, microclimate, exposure, and other viticultural factors.
•
Marlee's Vineyard (1976)
•
Patzimaro Vineyard (1989)
•
Monitor Ledge Vineyard (1992)
•
Rector Creek Vineyard (1994)
•
Stout Vineyard (1998)
•
Cork Tree Vineyard (2005)
•
Three Palms Vineyard (2015)
DUCKHORN WINE COMPANY ACQUIRES THREE PALMS - NORTH AMERICA'S MOST FAMOUS MERLOT VINEYARD
NAPA VALLEY, Calif. – May 13, 2015 – Duckhorn Wine Company is gratified to announce that, after 37 years of making wines from its coveted fruit, the company has acquired Napa Valley's legendary Three Palms Vineyard. Widely recognized as North America's greatest Merlot vineyard, Duckhorn Vineyards made its inaugural Three Palms Vineyard Merlot in 1978. This iconic wine helped to pioneer luxury Merlot in California, and played a pivotal role in establishing it as one of North America's great premium varietals. Three Palms was acquired from Sloan and John Upton for an undisclosed price. Duckhorn Wine Company has been purchasing all of the grapes from the 83-acre Three Palms Vineyard since 2011. Fruit from Three Palms will continue to be used exclusively in Duckhorn Vineyards wines.
Three Palms Vineyard has long been recognized for its unique history and its benchmark Merlots. In the late 1800s, the property was owned by San Francisco socialite Lillie Coit (Coit Tower), who planted the site's three landmark palm trees. In 1967, the rocky alluvial fan was acquired by the Uptons, who planted it the following year. The vineyard has sparse, bale loam soils. In many spots the vines' roots dig as deep as 18 feet in search of nutrients. Because of the challenging soils, the vineyard is planted to only 545 vines per acre.
Three Palms is also covered by volcanic stones, which absorb the sun's heat during the day and radiate the heat back to the vines at night, protecting against frost and helping to ripen the fruit. In addition, the vineyard's warm up-valley location contributes to a shorter season with exceptional ripening. Of Three Palms' 83 total acres, 73 are under vine, with approximately 50 acres planted to Merlot, and the rest planted to smaller amounts of Cabernet Sauvignon, Petit Verdot, Cabernet Franc and Malbec. The average vine age at Three Palms Vineyard is roughly 20 years, with the most recent plantings in 1999.
With the acquisition of Three Palms Vineyard, Duckhorn Wine Company's Napa Valley estate program now includes seven vineyards. These vineyards include both mountain and valley floor sites, for a total of 223 planted acres.
WWW.DUCKHORN.COM
ROB JENSEN - TESTAROSSA WINERY
From a Silicon Valley Garage to International Acclaim - It all began here in a 1 1/2 acre Santa Cruz Vineyard! Testarossa (Italian for "red head") was the nickname given Rob Jensen as a young university student in Italy. Rob and Diana Jensen started Testarossa in their garage in 1993 with just twenty-five cases of wine. Today, the winery works closely with top winegrowers in the Santa Lucia Highlands, Santa Rita Hills, Arroyo Grande Valley, Santa Maria Valley, Russian River Valley, Chalone and Santa Cruz Mountains appellations. The label has grown to national prominence among collectors and reviewers by cultivating long-term partnerships with passionate winegrowers and vineyards the likes of Garys', Pisoni, Rosella's, Doctor's, Sierra Madre and Rincon.
About Rob Jensen
Rob Jensen, a fourth generation Northern Californian, developed a passion for winemaking: its past, present, and future through extensive travel to Europe's great wine growing areas, combined with living in Italy during his university days. This fueled his interests and eventually led to the founding of Testarossa Winery.
Although Rob's degree is in Electrical Engineering, with a minor in Italian language and culture (Santa Clara University, 1986), he has studied grape growing, winemaking and chemistry at the renowned School of Viticulture and Enology at UC Davis. During Rob's nearly twenty year high-tech career he held several sales and marketing positions in pre- and post-IPO companies in Silicon Valley. In October 2001, Rob left high-tech to follow his dream and work full-time at the winery. Rob's technical background, love of the arts, and business experience made it a natural for him to dive headlong into the wine business, an industry that is equal parts science and art.
HISTORY - The Historic Novitiate
Testarossa's location at the historic Novitiate in downtown Los Gatos is both a state of the art working winery and a truly dramatic setting for visitors. The old stone cellars and beautiful grounds of the state's fourth oldest continuously operating winery house the tasting room and Wine Bar 107 and provide an amazing venue for private events.
The old Novitiate Winery was originally built in 1888 by Jesuit Fathers and Brothers from Santa Clara College (now Santa Clara University); it was intended to help fund their new seminary college, built on the grounds the same year. The term Novitiate means house of the novices, the name used for seminary students. For nearly 100 years, the Jesuits made altar wines, as well as sweet, fortified wines at the Novitiate Winery. The Novitiate Winery was best known for its fortified Black Muscat dessert wine (similar to a tawny port), which was a perennial gold medal winner at the California State Fair.
The original 19th Century, three-floor, gravity-flow winery is still in use today to make Testarossa wines. However, the original structure is now mostly hidden from view by the many expansions the winery went through during the first half of the 20th Century. Ironically, but not surprisingly, the demand for church altar wine production skyrocketed during Prohibition (1919-1933) and the winery and adjoining vineyards more than doubled in size during that period. After the Repeal of Prohibition, the winery continued to grow, as did the number of seminary students, who were also recruited to work in the vineyards and winery. By the late 1950s, over 100,000 cases of Novitiate wine was produced annually here.
In the 1960s, things started to decline at the old winery. The nearly century old vines were past their prime production years and costly replanting was needed. The seminary population was beginning to decline. In 1968, it was decided to shut down the seminary college in Los Gatos and move the students to Santa Barbara. At this same time, California's wine industry was booming; interest in varietal labeled, dry table wines displaced fortified and dessert wines. In 1986, the Jesuits shut down their Novitiate Winery brand, ending an amazing 98 year run. For the next ten years, the old winery was leased to other brands.
In 1997, the old winery underwent a new transformation. That year, the Jensens moved their four year old label Testarossa to the old Novitiate; that first year saw production of 4,000 cases of small lot Chardonnay and Pinot Noir. Today production is around 20,000 cases annually. Every year, Testarossa invests in repairing and improving the proud old facility. Today, the historic winery has been beautifully renovated into one of the gems of the California wine industry.
WINEGROWING
The most important ingredient for any great wine is the raw materials – the grapes. Testarossa specializes in limited production Pinot Noir and Chardonnay from some of the state's best known vineyard estates. Our success vintage-to-vintage is based on the long-term relationships we have developed with these outstanding, conscientious winegrowers.
Testarossa has two unique advantages when it comes to the winegrowing side of the equation. The first is Director of Winemaking, Bill Brosseau, who has extensive viticultural experience. Bill works closely with Testarossa's sources, overseeing the year-round lifecycle of the vineyards and managing the individual blocks set aside for the winery. Indeed, this level of commitment and participation has been taken to a new level with the Dos Rubios and Fogstone vineyards in the Santa Lucia Highlands – where Bill actually determines the planting decisions on the ground. Bill Brosseau's special skill set, combining grape growing with winemaking, gives Testarossa complete quality control – from "soil to the bottle."
Testarossa's other advantages are the winegrowers and vineyard owners themselves. Very few wineries can boast the roster of stellar "names" that appear on a Testarossa Pinot Noir or Chardonnay. Vineyards the likes of Pisoni, Garys', Rosella's, Doctor's, Graham Family and Rincon. And long-term partnerships with famed winegrowers such as Gary Pisoni, Gary Franscioni, and the Talley family. The estates and personalities provide the "terroir," the special sense of place that shines through in every bottle of Testarossa.