Executive Chef
Raj Dixit - Stonehill Tavern
Raj Dixit, Executive Chef at Stonehill Tavern at The St. Regis Monarch Beach, is a Mission Viejo native who has returned to his hometown after working as a chef in states across the country, including New York, New Jersey and, most recently, Texas. Through all of his travels and experiences, one constant has remained true in Raj's cooking – less is more.
After graduating from The Culinary Institute of America, Chef Raj worked at The Ryland Inn under the direction of Chef Craig Shelton - known for making the farm-to-table concept a nationwide movement, and that experience continues to shape Raj as a chef. He also served as opening chef for Dennis Foy and Chef de Cuisine for Tribeca restaurateur David Bouley, while opening his eponymous New Bouley Restaurant in New York City. Other memorable influences include his world travels, including visits to France, Japan and sojourns to Spain.
Chef Raj's menus are a clever collaboration of the senses. He avoids cooking trends, favoring instead a minimalist approach – sourcing the freshest, seasonal ingredients and keeping them in their purest forms to maintain the flavor and integrity of the ingredients. Raj always keeps in mind the flow and presentation of the courses, so every dish tells a story.
In his time off, Chef Raj enjoys reading, listening to an eclectic mix of music and spending time with his fiancée in the Santa Ynez valley.
Lead Sommelier
Paul Coker - Stonehill Tavern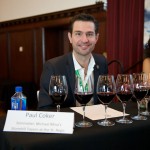 Paul Coker is the lead sommelier at Stonehill Tavern, the Forbes Four-Star Michael Mina restaurant at the St. Regis Monarch Beach Resort. Coker has an Advanced Sommelier certificate, and oversees a wine selection of more than 700 bottles with a focus on boutique producers in the California wine regions.
Prior to becoming a sommelier, Coker spent seven years as a cook and leverages his culinary background to create wine pairings on a molecular level. His fresh, fun approach to wine is easily accessible to aficionados and novices alike. Coker is ingrained in the Orange County community having worked at several local restaurants. In his free time, Coker enjoys playing hockey, mountain biking and reading.
"Sometimes people make too big a deal of it. We want wine to be fun," said Paul. "My goal is for people to try something new, shift their paradigm a little, but ultimately have a great night enjoying delicious food and wine."