GEORGE MILIOTES - DIRECTOR OF BEVERAGE & HOSPITALITY - THE CAPITAL GRILLE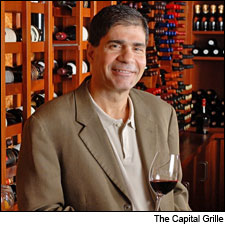 George Miliotes is a passionate educator and inspiring leader at The Capital Grille. As Director of Beverage and Hospitality and one of the world's few Master Sommeliers, George oversees all aspects of The Capital Grille's wine and beverage program, from the development of the award- winning wine list to educating and motivating service teams about wine.
Miliotes is a tremendous leader and innovator, who is credited with bringing a global, wine program to The Capital Grille. A firm believer in education and knowledge-sharing, Miliotes continues to study wine while enhancing The Capital Grille's wine list through his travel around the world. The result of his worldwide search is a stellar international wine list that is adventurous, yet approachable and inviting.
In March 2007, Miliotes became one of only 219 Master Sommeliers worldwide, passing a series of rigorous examinations that require the candidate to identify grape variety, country of origin, district of origin and vintage of six wines by taste and sight alone.
George Miliotes is the grandson of Greek immigrants and a child of the restaurant and hospitality business. His family owned a specialty market and café in Orlando, Fla., Mr. Dunderbacks, which became a gathering spot for local chefs and served as the starting point for Miliotes' passion for food and wine.
Miliotes' family also traveled extensively to some of the world's most respected wine regions, including Germany and France. These experiences enhanced his knowledge of wine and motivated him to pursue a career in the hospitality industry. Miliotes joined Chris' House of Beef, an Orlando landmark, and created a wine list that earned Wine Spectator magazine's "Best Award of Excellence" for four consecutive years, from 1988 through 1991. Miliotes later became the general manager of Walt Disney World's California Grill where he not only created another award-winning wine list, but also one of the first lists in the country to offer 100 wines by the glass.
Miliotes' honors include Restaurant Wine's 2006 "On-Premise Wine Marketer of the Year" award and Wine Spectator's Award of Excellence 2009-12.
www.thecapitalgrille.com
Joel Anthony Caruso the Amaro Guy – Wine Director, Buyer, Certified Sommelier, WSET Level 3, Pizzeria Ortica
If there's one thing that's has been made clear to Joel, it's that there is never a time to stop learning, and always a time to teach those willing to learn.
With 15 years of hospitality under his belt, Joel has been able to intertwine his understanding of guest service and relationship building into a way of translating the language of liquid into a unique and readily available form of entertainment and education.
Although he was born in Huntington Beach Joel spent a majority of his time growing up between Scottsdale Arizona and Walnut Creek California.
It was at Fox Restaurant Concepts, Olive&Ivy, in Scottsdale where Joel discovered his passionate appreciation for liquid education. Joel spend the first three years of O&I's infancy assisting sommeliers with tastings, training and cellar management in its Wine Spectator award winning wine program.
Aspiring to further his knowledge of wine Joel looked west to reconnect with his roots in California. He was offered a position at Terranea Resort in Rancho Palos Verdes in its Chandelier restaurant, Mar'Sel. It was there he made the decision to take a position bartending to round out his knowledge of service and libations as a whole. Joel split his time between Mar'Sel and Andrea in the Resort at Pelican Hill, until he was scouted by Fox Restaurant Concepts to open their first California endeavor, True Food Kitchen at Fashion Island.
After spending another year with Fox, Joel was then asked to open Mario Batali and Joe Bastianich's partnership with Nancy Silverton in Newport Beach, Pizzeria Mozza. With an opportunity to learn alongside two of Orange County's most talented bartenders Jaren Singh and Sten Green, Joel was able to expand his knowledge of cocktails, wine, spirits and of course, amaro.
It was a defining moment for Joel the day he discovered Italy's lesser known liquid gem, amaro. Having come from an Italian family he took to it like a fish to water, immersing himself in every form of amaro possible.
Although his love and passion for amaro is his namesake, Joel has consistently dedicated himself to an overall roundedness as a lover of wine, beer, spirits and hospitality.
Joel has been the buyer, Wine Director and bartender at Chef David Myers Pizzeria Ortica since March of 2013, taking the wine and bar program to new heights with the aide of the talented front of the house staff and kitchen.
Fixated on enhancing the already stellar food program, Joel has transformed and re-focused the beverage program into one of the country's most exquisite selections of wine, cocktails and amari. By cultivation relationships with winemakers across Italy and California Joel has been able to highlighting regional Italian gems and California grown Italian varietals not found anywhere else.
Amaroguy.com